I consider myself a forthright, honest person — sometimes to a fault.
If you're reading this, it's likely we've crossed paths in life.  It might have been in person, through television, or over discussions of winter storms, severe thunderstorms, heat waves, cold snaps, floods, droughts, or sunny skies.
Or, most likely, it's through the wonderful world of social media!
Since joining Facebook in 2009 and starting a personal blog in 2012, I've never shied away from sharing my life with you or telling it like it is — or, at least, how I see things.
Let's pretend for a moment that this is a press briefing.  I'm here to deliver some news. It's not a press conference, so I won't be taking any questions!!!
Change is stressful.  Change is exciting.  Change is different.  Change is simply change!
In life, we go through it many times.  Whether it's losing loved ones through death, break-ups or divorce, or just by spreading our wings to fly, change proves we're alive.
Expose harmonized that "Seasons Change", Kathy Troccoli crossed over from gospel to pop with "Everything Changes", David Bowie sang about Ch-Ch-Ch-Ch-"Changes", and Cyndi Lauper knew all about changes — with "Money Changes Everything" and "Change of Heart".
My favorite lyrics from that late-1980s hit are:  "Days go by/Leaving me with a hunger/I could fly/Back to when we were younger/When adventures like cars we would ride/And the years lied ahead still untried".
In life, I'd had many adventures.
I kicked off my television career as a teenager at MSU TV-11 on the campus of Murray State University in Murray, Kentucky in the 1980s!
B
Before my official broadcast television career took me to Indiana (Merrillville), Wisconsin (Rhinelander), Texas (Lubbock), Ohio (Youngstown, Mansfield, and Columbus), Maryland (Salisbury), and Illinois (Moline and Rock Island), I lived a summer in Milwaukee and four years in Chicago.
I've been blessed to call the Quad Cities home for more than eleven years.  I've met some wonderful people here and I've worked with some of the most incredible people, too. (On the other hand, there's also been some pompous asses!)
In late February, I shared a Facebook post that it was my four-year anniversary at "Local 4 News" and I included this comment at the end of the post.
That raised a couple of eyebrows with my friends.  Since then, I've posted a few more cryptic comments.  Isn't social media fun? 🙂
With that being said, I'm sharing something with you.  I decided not to renew my contract at "Local 4 News" and I'll be leaving the Quad Cities very soon.  
My last day on-air is Wednesday, April 26th, and I head out next week!
It seems like the perfect time to prepare for retirement that's much closer now than it was two decades ago at the beginning of my career.
So, as much as I love Midwestern snows, I'm trading it all in for the occasional hurricane and tropical storm!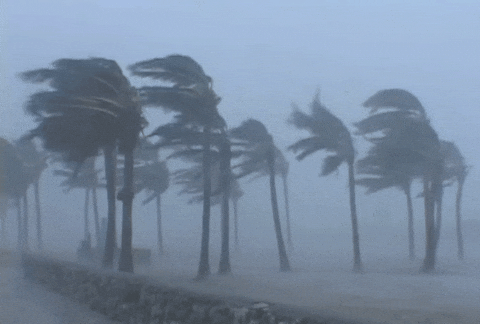 In all reality, I definitely don't want to come face to face with an Allen, Andrew, Camille, Dennis, Earl, Frances, Gilbert, Hugo, Ivan, Katrina, Opal, or Wilma!
However, I'll finally get to use a city name in my weather broadcasts that I've always loved saying — Apalachicola!
I'm heading to Panama City, Florida and taking a morning and midday meteorologist position at the ABC affiliate!
Within the past few years, Ray and I talked extensively about retiring to Las Vegas and that could still happen.  We're still relatively "young" when it relates to how many work years we have left and now we can see if the Gulf Coast fits into that long-term plan.
Ray has been with the City of Moline for almost twelve years and he feels he want to end his career here.  That means he'll be staying in the Quad Cities for several more years.
Gretel turns 16 this summer and has her driver's permit.  While she's finishing her sophomore year of high school, she's already planning her future as a movie director.  Hopefully, she'll be the next Kathryn Bigelow, Ava DuVernay, or Sofia Coppola!
She's a typical teenager that likes to sit in her room with her eyes glued to her phone or her laptop.  She's a well-grounded young lady who would ask for help or advice in a heartbeat if she needed it.
So, she'll be fine navigating life with Ray and her mother.  Besides, one helicopter parent is enough.  While I enjoyed being a "like a dad" for eight years, I truly believe I was a better parent to a golden retriever than to a teenager!
Who knows, maybe it's time to get a pug now that Miss ABBA's been gone over five years? 🙂
As for my sister, Tammy, she'll be perfectly fine here until she decides where she wants to go next.  Her two sons, her daughter-in-law, and two granddaughters are here.  And, she just learned that she'll be a grandmother again — twins are on the way!
She'll definitely need to escape to Panama City on vacation once or twice a year!
So, my friends, that is the news I've been keeping under wraps for the past couple of months.
I'll be the first to admit that it's a little scary to be making this move at this point in my life.
But, as the late, great, and incredibly amazing Karen Carpenter sang, "We've only just begun to live/ white lace and promises/a kiss for luck and we're on our way"!
Anthony